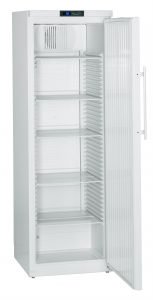 When refrigerators spread throughout society in the middle of the last century, they completely changed the lifestyle of the average family.
Being able to effectively preserve all types of food has revolutionized the way we conceive daily life.
Similarly, laboratory refrigerators play a vital role in research institutions, companies and commercial activities.
But how do they differ from normal refrigerators? What exactly are they for?
Let's see it together.
What are laboratory refrigerators for?
Laboratory refrigerators are refrigerating appliances intended for the storage of chemicals, medicines, reagents and biological samples.
As the name suggests, they are mainly used in the laboratory but also in some commercial activities open to the public, such as pharmacies.
Even more than our foods, the preservation of medicines and chemical substances of various kinds require equipment capable of guaranteeing precision and reliability.
Laboratory refrigerators meet these needs with state-of-the-art internal temperature regulation systems, which can be calibrated according to need.
How Laboratory Refrigerators are made
Like common refrigerators, laboratory refrigerators usually have a refrigerator compartment - i.e. with temperatures above 0° - and a freezer compartment - i.e. with temperatures below 0°. But that's not the rule.
There are simple laboratory refrigerators, without a freezer compartment, which can be preferred due to their cost and low energy consumption.
Laboratory refrigerators are available in many models which are mainly distinguished by: temperature range, shape and internal layout, dimensions.
The internal temperature can reach maximums of 30° and minimums of -15°.
For lower temperatures we talk about laboratory Ultra-Freezers that we have dealt with here.
The dimensions and shapes of laboratory refrigerators vary greatly and the choice must take into account the space available in the room and the internal capacity. Some laboratory refrigerators resemble common kitchen ones, while others are arranged horizontally in a box.
Finally, the interior of laboratory refrigerators must be evaluated considering the number of shelves and their conformation: there are refrigerators with simple shelves and refrigerators with shelves with drawers which are more suitable for storing multiple samples to be catalogued.
All the interiors of laboratory refrigerators are designed with linear designs that facilitate sanitization and defrosting.
As for defrosting, they can be equipped with manual or automatic defrosting. We have talked about the pros and cons of each system in detail here.
Create your own environment, according to any test requirement
FDM Laboratory Refrigerators
FDM - Environment Makers offers its line of laboratory refrigerators which is characterized by a vast range of models suitable for all uses and needs.
In addition to the ten models that you can consult here, our technicians are always ready to listen to the customer to meet their needs and design a customized laboratory refrigerator together.
For further doubts and questions, please do not hesitate to contact us.
Would you like to receive a quote or do you have questions about the product?
Contact us to receive more information about this Product.